SHRIMAD DEVI BHAGAVATAM PURANA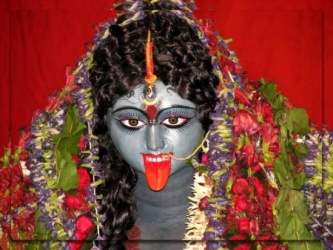 Śrīmad Devī Bhāgavatam Purāṇa for all Devi bhaktas, devotees of Divine Mother. This is the most important and ancient Purāṇa for all Śaktas.
Śrīmad Devī Bhāgavatam Purāṇa is considered a Mahā Purāṇa for Devī worshippers. It consists of 12 cantos (sections) with 318 chapters.
Along with Devī Māhātmya, it is one of the most important works in Śaktism, a tradition within Hinduism that reveres Devī or Śakti (the Divine Mother of all) as the primordial creator of the universe and the Ultimate Truth and Reality.
Devī Bhāgavatam celebrates the Divine Mother as the origin of all existence, the creator, the preserver and the destroyer of everything, as well as the one who empowers spiritual liberation.
Here you can read online Devī Bhāgavatam, translated by Swami Vijñanananda.
A lot work has been done to proofread the old translation, make sure all Sanskrit terms and mantras are written correct and to give some styling for more convenient reading. I believe it is the most complete edition of Devi Bhagavatam Purana online as far I know.
| | |
| --- | --- |
| I BOOK |   |
| Chapter I | The questions asked by Śaunaka and others |
| Chapter II | The questions asked by Śaunaka and other Rishis. |
| Chapter III | Praising of the Purāṇas and about each Vyāsa of every Dvāpara Yuga |
| Chapter IV | The Excellency of the Devī |
| Chapter V | The story about Hayagrīva |
| Chapter VI | About the preparation for war by Madhu Kaiṭabha |
| Chapter VII | Brahma Praising the Devī |
| Chapter VIII | About deciding who is to be worshipped |
| Chapter IX | About the killing of Madhu Kaiṭabha |
| Chapter X | About Śiva's granting boons |
| Chapter XI | About the birth of Buddha |
| Chapter XII | About the birth of Pururavā |
| Chapter XIII | About Urvaśī and Pururavā |
| Chapter XIV | About the birth of Śūka Deva and the duties of householders |
| Chapter XV | About the dispassion of Śūka and the instructions of Bhagavatī to Hari |
| Chapter XVI | How Śūka wanted to go to Mithilā to see Janaka |
| Chapter XVII | About Śūka's displaying his self-control amidst the women of the palace of Mithilā |
| Chapter XVIII | Janaka's teachings to Śūka Deva |
| Chapter XIX | Description of the marriage of Śūka |
| Chapter XX | How Vyāsa was doing his duties |
| | |
| --- | --- |
| III BOOK |   |
| Chapter I | The questions asked by Janamejaya |
| Chapter II | About Rudras going towards the heavens in the celestial car |
| Chapter III | About seeing the Devī |
| Chapter IV | The hymns to the Great Devī by Viṣṇu |
| Chapter V | The chanting of hymns by Hara and Brahmā |
| Chapter VI | Description of the Devī's Vibhūtis (powers) |
| Chapter VII | About the creation and the Tattvas and their presiding deities |
| Chapter VIII | About the Guṇas and their forms |
| Chapter IX | The characteristics of the Guṇas |
| Chapter X | The story of Satyavrata |
| Chapter XI | About the merits of the Devī in the story of Satyavrata |
| Chapter XII | About the Ambā Yajña rules |
| Chapter XIII | About the Devī Yajña by Śrī Viṣṇu |
| Chapter XIV | The story about the glories of Devī |
| Chapter XV | The battle between Yudhājit and Vīrasena |
| Chapter XVI | The glory of the Devī |
| Chapter XVII | The story about Viśvāmitra |
| Chapter XVIII | The Svayamvara of Śaśikalā |
| Chapter XIX | How Svayamvara went to assembly of Sudarśana |
| Chapter XX | About the Svayamvara hall and the king's conversation there |
| Chapter XXI | How the king of Benares fulfilled the advice of his daughter |
| Chapter XXII | About the marriage of Sudarśana |
| Chapter XXIII | The killing of the enemy of Sudarśana in the great war |
| Chapter XXIV | The installation of Durgā Devī in the city of Benares |
| Chapter XXV | The installation of the Devī in Ayodhyā and Benares |
| Chapter XXVI | What should be practiced in Navarātri |
| Chapter XXVII | Which virgins are fit to be worshipped and the Glory of the Devī |
| Chapter XXVIII | The incidents connected with Navarātri |
| Chapter XXIX | The stealing of Sītā and the sorrows of Rāma |
| Chapter XXX | The story about Navarātra ceremony by Nārada and the performance of that by Rāma Chandra |
| | |
| --- | --- |
| XII BOOK |   |
| Chapter I | Description of Gāyatrī |
| Chapter II | Description of the Śaktis, etc., of the syllables of Gāyatrī |
| Chapter III | Description of the Kavācha of Śrī Gāyatrī Devī |
| Chapter IV | Gāyatrī Hridaya |
| Chapter V | Gāyatrī Stotra |
| Chapter VI | The one thousand and eight names of the Gāyatrī |
| Chapter VII | The Dīkṣā vidhi or the rules of Initiation |
| Chapter VIII | The appearance of the Highest Śaktī |
| Chapter IX | About the cause of Śraddhā in other Devas than the Devī Gāyatrī |
| Chapter X | Description of Maṇi Dvīpa |
| Chapter XI | Description of the enclosure walls built of Padmarāga maṇi, etc., of the Maṇi Dvīpa |
| Chapter XII | Description of Maṇi Dvīpa |
| Chapter XIII | Description of Janamejaya's Devī Yajña |
| Chapter XIV | The fruits of Devī Bhāgavatam Purāṇa recitation |